For the 7th Annual International Conference, CMTAI is virtually bringing together movement and other creative arts therapists/practitioners from across continents to re-think and re-imagine the purpose, medium, and meaning of our disciplines in the context of the Covid-19 pandemic, or the 'New Normal'. As a dynamic global community, we will explore how we can contribute to mental health and well-being during the pandemic and post-pandemic era by sharing multicultural artistic approaches and tools and techniques from our praxis that address resilience-building and psychological fallouts like anxiety and depression.
We will discuss the opportunities and challenges of online teaching, therapy and facilitation, and how online interactions and engaging with individuals in confined spaces are shaped when striving for effective learning and qualities such as human warmth and kinesthetic empathy. Interactive sessions will focus on how arts therapies can nurture our inner selves, enhance endurance to face uncertainties and new realities, and transform crises into aesthetic life affirmations. We will experience cutting-edge arts therapies practices being used in diverse sociocultural settings and ways in which they give us psychological and spiritual strength to deal with these turbulent times. This year's virtual conference will consist of a pre-conference workshop, keynote address, basic and advanced theoretical-experiential sessions, research paper presentations, panel discussions, and more!
Stay tuned for more details!
Call for Research and Poster Presentations!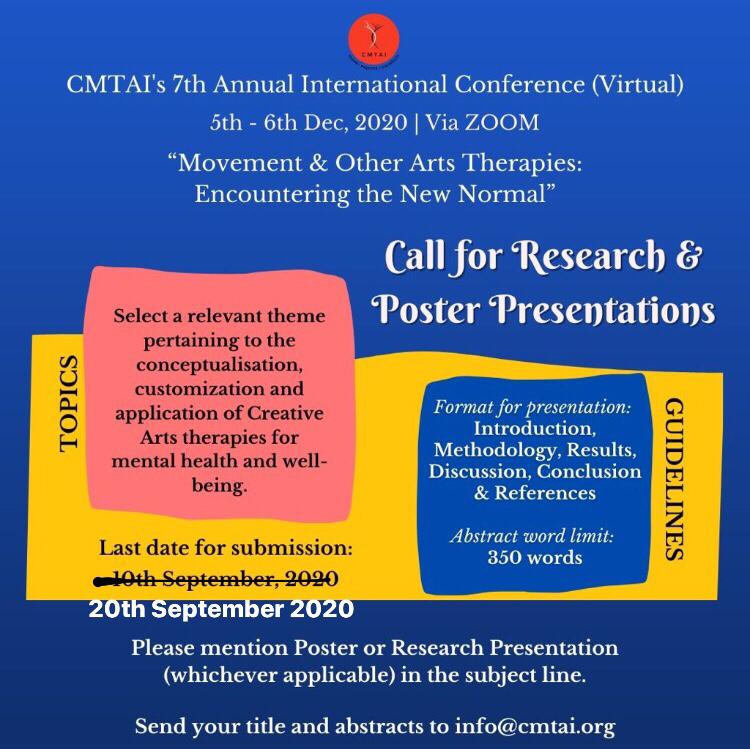 Continuing our efforts to promote research in the field of Creative Arts therapies, we invite you to present your work at the conference. Keeping in mind the relevance to the topics mentioned above, submit your title and abstract to: info@cmtai.org
We cannot wait to get some more of you on board with this journey! Upon requests, the deadline has been extended to 20th September. We look forward to receiving more from all of you.